Vegetarians go B.A.D.!
(5/14/2013)



Vegetarians rejoice! Continuing with the trend of specialized meal plans, the Bon Appétit Diet with Dr. Jean-Michel Cohen recently launched the Vegetarian meal plans for the Philippine market.
The meal plans were inspired by Dr. Cohen's latest book, The Parisian Diet, which made it possible for octo-lavo-vegetarians to enjoy healthy, balanced food with a Parisian twist! Clients can now choose between the 900, 1200, and 1400 kcal variations and enjoy refreshing salads, filling entrées, and sinfully tasting desserts.
Vegetarians in the Philippines have been steadily increasing in number throughout the years, following the trend in western countries. Many assume that going vegetarian will automatically help them lose weight and become healthier. However, lots of vegetarian grocery items and dishes still pack a lot of calories, fat, sugar, and salt. Not only that, but not all recipes are nutritionally balanced, resulting in unhealthy weight loss.
With the Bon Appétit Diet, clients can be assured they have access to well balanced, nutritious, and exciting meals that will help them lose weight and keep it off for life! Best of all, they have access to a team of registered dietitians who have all trained under Dr. Cohen's program.
To find out more about the new vegetarian meal plans and other news on the Bon Appétit Diet and Dr. Jean-Michel Cohen, visit:http://bon-appetit-diet.belletoday.com.ph/ or call (02) 491 7676 to get your free diet profile today!
BelleToday.com.ph partners with BDJ Box!
(4/17/2013)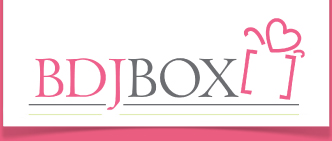 Feeling good usually equals to looking good, hence the natural partnership of popular beauty samplers BDJ Box (sister company of Belle Du Jour Power Planners) and premiere online weight-loss coaching publisher BelleToday.com.ph.
Beauty sample boxes are the latest rage for many beauty and wellness enthusiasts. Subscribers can look forward to a surprise every month; goodies range from the latest makeup products to popular wellness programs.
The sold-out April 2013 box featured many exclusive products to its subscribers, including a special offer from the Bon Appétit Diet with Dr. Jean-Michel Cohen. Various "un-boxing" blogs, tweets, and status updates came fast on the heels of the BDJ Box delivery. As the warmer months descend, many clients were excited to try out the latest weight-loss coaching program from France's foremost nutrition expert Dr. Jean-Michel Cohen.
This was the just the latest move from the BelleToday.com.ph team as they continue to experiment with like-minded local brands and partners.
To get the latest news from the Anxa-powered publishing company, go to www.belletoday.com.ph.

Photo Credit: BDJbox
Vitamin Cafe Talks
(4/4/2013)
Vegetarians Can Now Enjoy La Méthode Montignac!
(3/21/2013)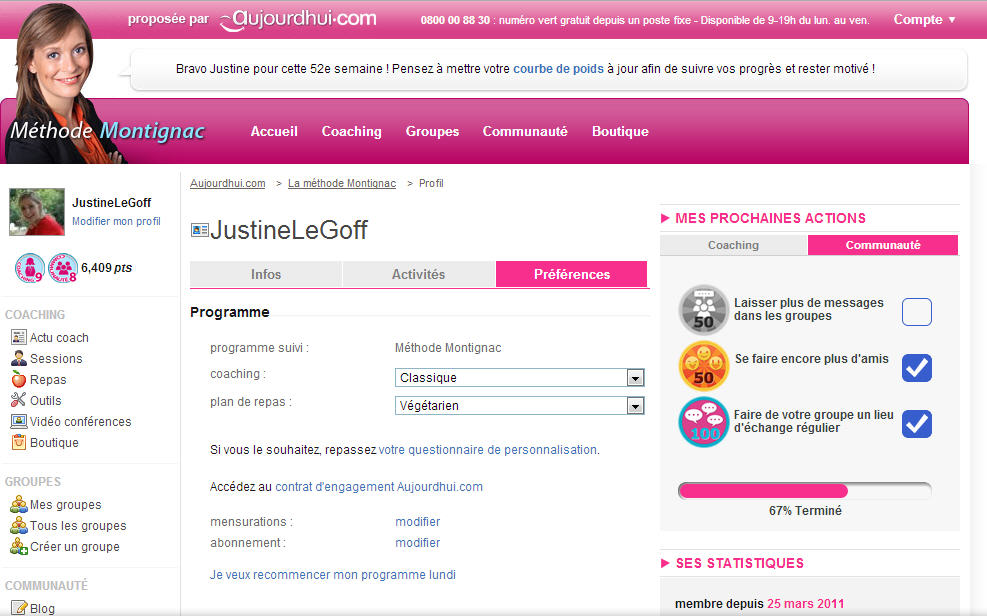 Last March 18, 2013, Aujourdhui.com's La Méthode Montignac launched its Vegetarian Diet Profile. This comes in the heels of the Pork-Free and Soy-Free meal plans launched last October 2012.
The Vegetarian diet profile maintains the key weight-loss concepts established by Michel Montignac, while offering meal plans that utilizes fish, eggs, and plant-based proteins. The new program caters to the prevailing types of vegetarianism, namely pescatarians (those who omit all meat except for fish) and octo-lavo vegetarians (those who omit all meat except eggs and dairy products). Clients want to further adjust their meal plans to completely omit any animal protein or byproduct can turn to the program's team of trusted dietitians that can help assist them in their needs.
This diet profile, like other profiles already in the program, will complement the coaching and diet preferences of the client upon registering.
A Parisian in New York
(3/11/2013)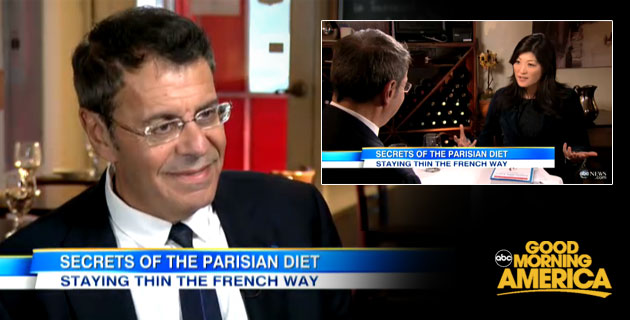 Photo credit: ABC News
Dr. Jean-Michel Cohen and The Parisian Diet were the focus of two popular American shows: Nightline and Good Morning America.
Famed television journalist Juju Chang followed Dr. Cohen around New York City and discussed his new weight loss program on both shows, showing how Parisians stay slim and fit through equal parts good eating habits and joie de vivre!
"'Parisian Diet': Just Savor Food, Author Says"
"Dieters Enjoy Favorite Foods, Still Lose Weight"
The 5 simple rules highlighted in both episodes showed how time-honored Parisian traditions can let Americans have their cake and eat it too—or in this case—a Big Mac from McDonald's.
Also in the programs was Rachel Yohai, an American woman who had been following The Parisian Diet for 5 weeks and had already lost 11 lbs. Her story was a testament how pleasure-- enjoying one's food-- is key to losing weight, keeping it off, and enjoying the process!
For more information about the Dr. Jean-Michel Cohen and The Parisian Diet, visit www.theparisiandiet.com and get a FREE diet profile!
Aujourdhui.com Launches Chrono-Géno-Nutrition 2.5
(2/20/2013)

On February 18, 2013, Aujroudhui.com launched version 2.5 of the Chrono-Geno-Nutrition. It was optimized to be more user-friendly in order to help clients reach their weight loss goals more easily.
In this new version, the Chrono-Nutrition and the Geno-Nutrition parts of the program are arranged in succession, different from the previous version where both were integrated for the duration of the entire program.
In the first four weeks, the program will focus on the Chrono-Nutrition diet, which is based on the physiological rhythm of the body. This phase is about eating the right food at the right time in order to aid digestion. At the end of the 4 weeks, clients will be asked questions about their weight loss to determine their compatibility and preference.
Clients will have the option to either stay in Chrono-Nutrition or move on to the Geno-Nutrition diet, a program based on one's blood type.
This new version is also equipped with brand new sessions and more than 157 new recipes!
Check it out now: http://chrono-geno-nutrition.aujourdhui.com
Aujourdhui.com Launches the Diet Affinité
(1/21/2013)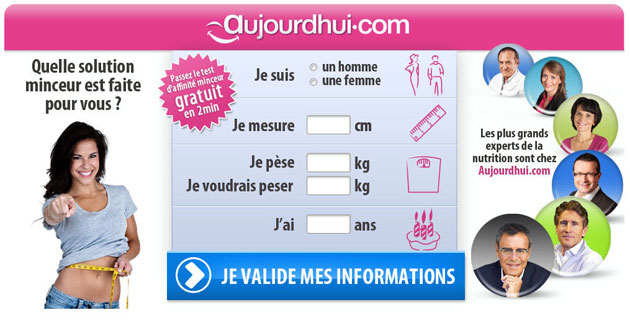 So how do you know what the best diet is for you? Do you get one that checks your blood type? What about one that is all natural or one that lets you eat carbs? Well worry no more as the Diet Affinité checks your lifestyle and weight loss preferences in order to recommend to you the best type of program to follow.
Aujourdhui.com has launched its new revolutionary tool Diet Affinité that allows users on Aujourdhui.com to finally find the weight loss method that is tailored to their needs! This free test is simple, innovative, and fast. With just a few questions users will be able to determine the best program for them based on their profile, habits and lifestyle.
Studies have shown that different methods of slimming could have positive effects on weight loss but the effect is largely determined by the ability to follow the program. The Diet Affinité lets users discover the best method that applies to their profile and expectations allowing them to increase their success in the long term.
How does it work?
The first step is to answers a few questions, as honest as possible, to create your diet profile. Once you have provided responses to all the questions, the tool will highlight two programs that best matches you according to your profile, requirements and expectations. After that, you will receive additional information about the two approaches highlighted to help you make your choice. You will find, for example, the three main principles of the method explained, and a video of the doctors and coaches to give you an idea of what the program offers. Information that is provided enables you to make your final choice.
Diet Affinité matches users to the six tried and tested diet programs by world renowned expert doctors and coaches featured at Aujourdhui.com. The programs that will be matched to you are:
Dr. Jean Michel Cohen's Savoir Maigrir
Sybille Montignac's Methode Montignac
Dr. Claude Chauchard's The Chrono-Géno Nutrition
Dr. Jean Michel Gurret's Methode MentalSlim
Dr. Yann Rougier's Methode Rougier
Olivia and Alessandra Mori Buronzo's La Methode Naturelles
"With the Diet Affinité technology, we succeeded to give a powerful tool to help people choose the best weight loss method, targeted for their needs and profile. It's not you trying to fit into a diet, it's finding the right diet for you," said Project Manager, Sebastien Gilbert.
The Parisian Diet has launched in the U.S.
(1/8/2013)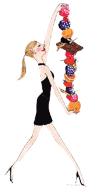 It's a wonderful start for 2013 for ANXA, with the official launching of The Parisian Diet in the U.S. last January 1, 2013.
Now the US market will have access to France's No. 1 weight loss diet, with the launching of both The Parisian Diet program, and The Parisian Diet book by France's best known nutritionist and long time ANXA collaborator Dr. Jean-Michel Cohen.
The Parisian Diet is Dr. Cohen's expertise on weight loss that is tailored to Americans. Clients from the US can take advantage of this proven weight loss method with the same quality coaching techniques by the author, excellent customer service and motivation, specially adapted meal plans, and recipes featuring ingredients readily available in the United States but often featuring an easy French twist to help them achieve their weight loss goals.
The Parisian Diet offers three flexible diet phases: Café, Bistro and Gourmet, which allows readers and clients to combine different menus, give themselves a weight-loss boost, or choose the solution that best suits their lifestyle. The program focuses on both mind and body by teaching clients and readers how to adopt a healthy attitude to eating. It also includes practical advice for everyday diet situations as grocery shopping and eating out.
The launching of The Parisian Diet book in the U.S. Market, with the long time French publisher partner Flammarion, will give readers access to the same program that has grown to be well loved by the French.
And even better, people in the U.S. can take their online program with them anywhere, analyze their eating habits for free and create their diet profile with the launch of The Parisian Diet iPhone application. The application also includes diet tips and information about the expert Dr. Cohen himself.
The Parisian Diet is expecting to rouse extensive media exposure in the coming months. Feature has already been published by NBC's Today show, and the book has already received rave reviews from both Amazon.com and Barnes and Noble.
ANXA is thrilled that this partnership has continued to bring this Jean Michel Cohen's expert coaching to the United States, to help people achieve both their life and weight loss goals.
"It is the most advanced coaching program ANXA has ever produced, and ANXA is excited to bring the French lifestyle to the US Market" says Thomas Poulain, ANXA's Online Marketing Manager for The Parisian Diet Program.
Christmas Parties Across All Anxa Branches!
(1/5/2013)
La Dieta Bon Appétit launches in España!
(12/5/2012)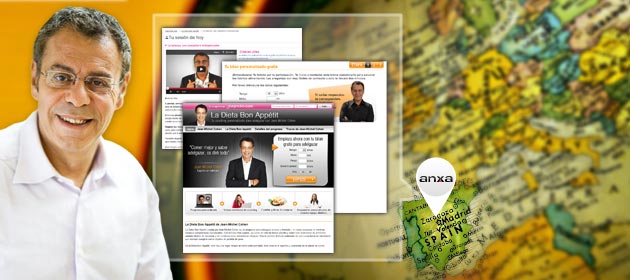 Spaniards and other Spanish-speakers can now join the 500,000 people who have lost weight with world-renowned nutrition expert Dr. Jean-Michel Cohen. Through La Dieta Bon Appetit, eating well in Spain has never been this good!
The popular diet program has 6 months worth of personalized coaching videos and sessions with Dr. Cohen, as well as healthy, simple-to-follow, and delicious recipes especially adapted to the flavors of Espańa. "This was a challenge for the team, as it was the first program that we did that was neither French nor English—our native languages in Anxa", said Project manager Vincent Ruiz. "But we're happy with the results. We have a local team in Spain that helps us ensure that our clients will experience the same world-class service we give to all of our clients."
Dr. Cohen shot all the videos in Spanish, a language that is close to his heart. This is the second program that Anxa and Dr. Cohen have released in their 5-year partnership, and there are plans to create more. As always, customers can expect the same quality coaching techniques by the author, 24/7 customer service and motivation, and specially adapted meal plans and recipes. For now, Spain can now relish an early Christmas present from Dr. Cohen and the team—the first 500 to registerhave the chance to experience the program for free!
For more information, please visit: www.dietabonappetit.com
Aujourdhui.com partners with Congrès des Thérapies Quantiques et de la Nutrition
(11/20/2012)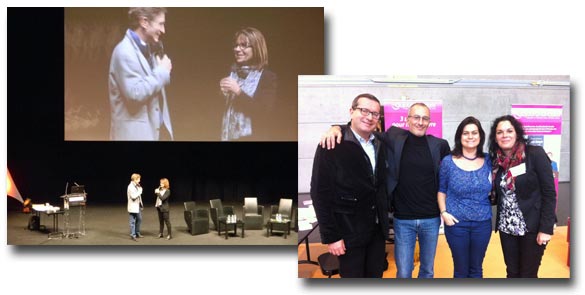 Aujourdhui.com partnered with Congrès des Thérapies Quantiques et de de la Nutrition, which ran from November 17 to the 19, 2012. The event was the third of its kind and was held in Reims, France.
The conference was organized by bio-nutritionist Marion Kaplan. A former student of Dr. Catherine Kousmine, Kaplan was joined by other well-regarded personalities in the health and sciences, including philosopher of science Erwin Laszlo, American physician Dr. Leonard Laskow, psychoanalyst Dr. Willy Barral, philosopher Arouna Lipschitz, and oncologist Dr. Henri Joyeux; lastly, nutritionist and representative of the French Doctors Dr. Yann Rougier.
HAPIfork inclusion in the CES Innovation Awards
(11/15/2012)
Level Up Montignac Engagement Project
(9/28/2012)
Aujourdhui.com Partners with Le Train Bien Vivre Pour Bien Viellir
(9/12/2012)

The Aujourdhui.com team is partnering with the grand Le Train Bien Vivre Pour Bien Vieller (The Age Better Live Better Train). From 18 September to 3 October, Aujourdhui.com will be on the road, sharing advice and solutions on how to grow old gracefully.
With the help of anti-aging expert Dr. Claude Chauchard, they have created a unique coaching program entitled, "Aging Well, Living Well", which will be available for everyone who is looking to live their golden years to the fullest.
The team will also be holding contests and offering gifts to participants. Of course, customers will also get the chance to meet members of the team and some of the experts behind one of the premiere well-being solution-providers and communities in France. So what else are you waiting for? Join Aujourdhui.com and let's go full-steam ahead to wellness!
Anxa.com Welcomes the Shanghai Team
(9/1/2012)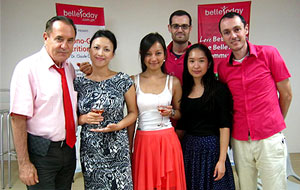 Anxa Alabang recently welcomed two of its newest members, Xiaolin Zhu and Cecile Qu. The ladies are the first members of the Shanghai team, as Anxa prepares to expand its services to China in 2013.
Both Zhu and Qu have vast international experience, having finished their studies and begun their careers in Europe and the United States respectively. They have since come to Shanghai and started to prep the groundwork for one of the company's most ambitious moves to date.
As obesity rates go up and the trend of wellness increases in China, Anxa.com will offer its unique products of well-being coaching programs, services, and products.
Jean-Michel Cohen and Yann Rougier Visit Alabang
(8/31/2012)
Happy 5th Birthday Savoir Maigrir!
(8/13/2012)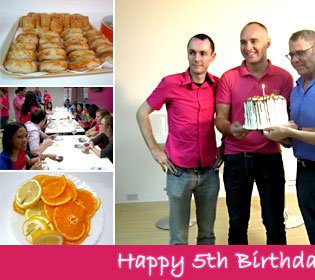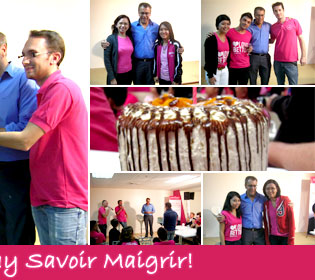 Renowned nutrition expert Dr. Jean-Michel Cohen capped off his visit in Manila with a joyous celebration of Savoir Maigrir's 5th birthday. The event, streamed live on Google+ Hangout, was celebrated in Anxa's Vitamin Cafe with over 80 of the company's employees and partners.
"We're very happy to celebrate this milestone with Dr. Cohen." says Special Projects Manager and Anxa co-founder Philippe Monteiro da Rocha. "Not only did we see the result of our partnership grow bigger and reach more people through the years, but our company's relationship with Dr. Cohen has also deepened over time."
Dr. Cohen echoed this statement during his turn on the spotlight amidst the night's celebrations, thanking everyone for their unwavering support and hard work. He also rallied the group to take on the international markets, a journey that the he and Anxa stared this year with the release of the Bon Appetit Diet in the Philippines.
Versions of Savoir Maigrir will be released in Spain and the US later in the year.
Life After 50!
(7/15/2012)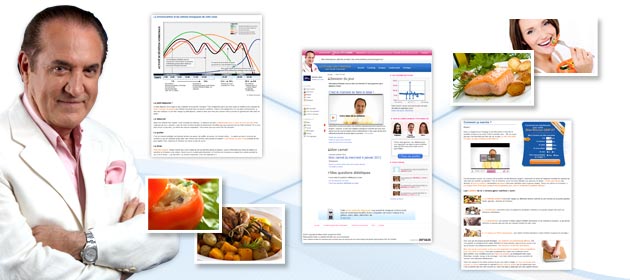 Successful aging is accessible to everyone. According to Dr. Claude Chauchard, "Today, growing old is a choice and no longer an obligation." The program called, "Living Well After 50" is now available for free on Aujourdhui.com. The French program shows everyone how to adopt good daily habits in order to add more life in their golden years.
The program provides:
Daily coaching
Video sessions with renowned anti-aging expert Dr. Claude Chauchard
Tips and tricks to succeed in key anti-aging factors such as memory, physical fitness, and sleep!
Questionnaires, vitality test in order to track one's progress
Tools to interact with the community in order to stay motivated and positive!
For more information or to sign up for the program, please visit: http://chrono-geno-nutrition.aujourdhui.com
BelleToday.com.ph launches the Chrono-Geno-Nutrition Diet with Dr. Claude Chauchard
(7/1/2012)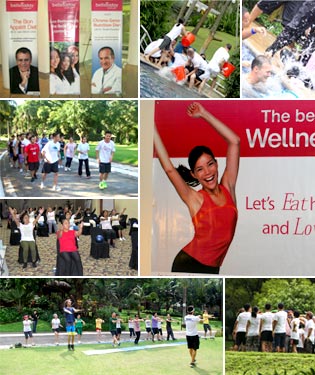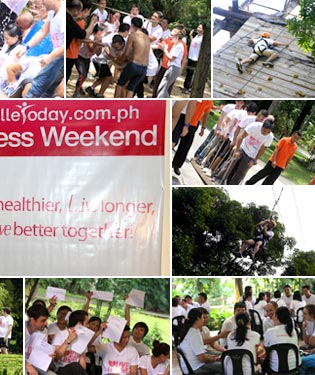 The BelleToday team welcomed 10 of its clients from the Bon Appétit Diet and the Chrono-Geno-Nutrition Diet, along with over 60 of its team members to its first ever BelleToday Wellness Weekend.
The 3-day affair was held at the First Pacific Leadership Academy in Antipolo from June 8 to 10, 2012.
Clients were treated to all-day massages courtesy of the SPA and workshops by Dr. Jaime Galvez Tan, Coach Pia Acevedo of One Core, and blogger Ria Tirazona (Fat Girl No More). They also had their pick of fitness workouts by Barre3, coach Angelo Falcon, coach John Jay Cuay (Zumba), and David Montecillo (Qi Gong).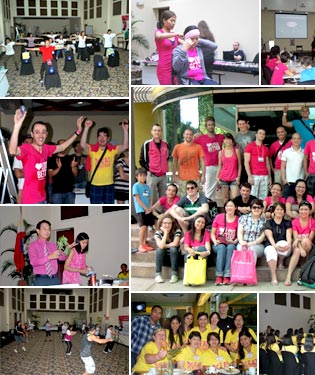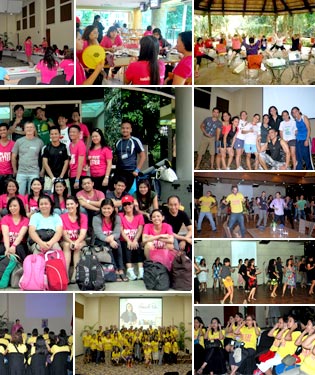 "The goal of the event was to bring together all our communities, from our clients, to the team, and the best local experts in well-being, in order to share our knowledge and experiences," says Trina Epilepsia, Communication and Content Manager. "As BelleToday is primarily an online wellness provider, it's important to us that we meet our customers in the flesh and make a deeper connection with them."
The event was held in partnership with the SPA, Barre3, the Natural Shelf, and KS Make-Up.
All-New Low-GI Recipes & from Sybille Montignac
(4/24/2012)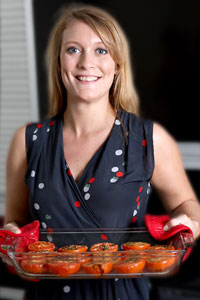 Sybille Montignac, licensed dietitian and daughter of the founder and online coach of La Méthode Montignac (The Montignac Method) on Aujourdhui.com, has released her latest book, Mes petites recettes minceur Montignac (My Montignac Diet Recipes), published by Co-édition First/Santé Magazine. The launch was held last March 6, 2012 at Fnac in Lille, France.
25 years of helping millions in France lose weight
The Montignac method is a way of nutritional reeducation, based on low glycemic index (GI) foods; and an easy-to-follow program without any quantity restrictions. These tenets are essential to the program's success.
In the book Mes petites recettes minceur Montignac, Sybille Montignac gives a fresh look to the method created by her father, Michel Montignac. This is culled from her experience as a nutrition expert and coach on Aujourdhui.com, which offers weight loss programs adapted for modern men and women. The book is a perfect complement to the loyal followers of the online program, and it also serves as an introduction to the Montignac method for the uninitiated.
120 delicious and creative recipes
Sybille has developed 120 new "Montifriendly" recipes according to the principles of the Montignac method, so that meals are always healthy and balanced. The recipes make use of healthy products such as stevia and agar-agar.
Exercises and fitness tips are provided by Guillaume Devilliers (physical trainer) and Patricia Paisant (expert in alternative medicine and dietary supplements).
To learn more about the Montignac method: http://methode-montignac.aujourdhui.com
test test test test it's hard to read the top part :-)